---
Latest Updates
Tech Bootcamps Timeline
Phase 1: Development – Complete
March – November 2022
Phase 2: Deployment
December 2022 – April 2023
Prototype Development
In-Person Bootcamp #1 (March 6-7, 2023)
Virtual Bootcamp #1 (March 20-21, 2023)
Virtual Bootcamp #2 (April 17-18, 2023)
In-Person Bootcamp #2 (April 26-27, 2023)
Phase 1: Dissemination
May 2023 – February 2024
Review and analysis
Knowledge sharing and info sessions
Employer learning e-tool launch
Final analysis and impact review
Our Design Process
Learn More
---
Register for the Tech Bootcamps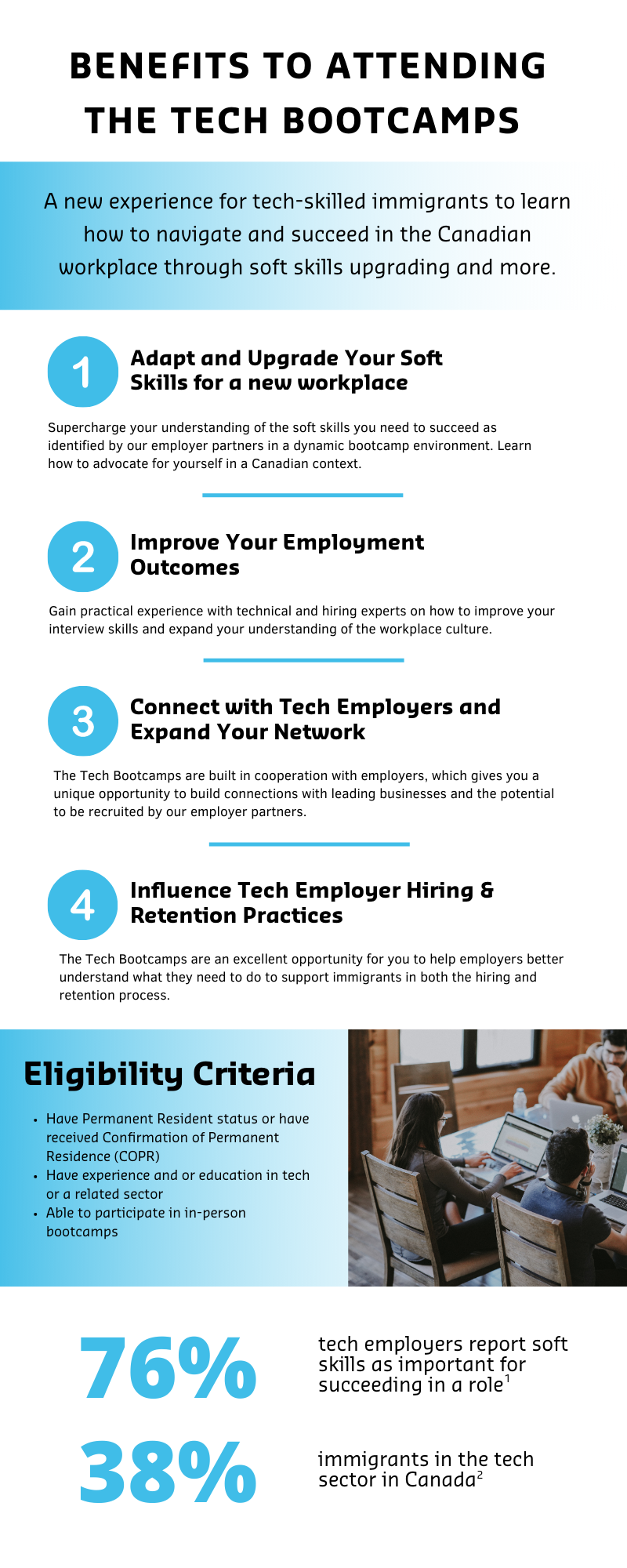 ---
For Employers
How do the Tech Bootcamps work?
Through our co-development process with employers, we identified six soft skills critical to succeeding in the tech sector: Communication, collaboration, critical thinking, emotional intelligence, coachability, and personal resilience. The Tech Bootcamps focus on helping newcomers adapt and upgrade their soft skills in these areas to succeed in the Canadian tech sector.
Why do we need your help?
What sets the Tech Bootcamps apart from other soft skills programs is that it focuses on a specific trifecta of issues: the soft skills of newcomers in tech. Through our co-development process with our employer partners and newcomers, we have discovered that direct engagement with tech professionals is crucial for the Tech Bootcamps to be successful.
We need your experience, passion, and drive to make the sector more successful.
We Need Your Help Facilitating These Activities
Mock Interviews
Mock Interviews
A two part module that allows learners to gain insight into and practice interview skills.
The participants have one interview with an employer facilitator at the beginning of the program and one at the end to understand their growth through the program.
Employer facilitators will present feedback to participants to get a sense of their coach-ability.
Personal Branding
Personal Branding
This module focuses on going beyond resumes and LinkedIn and instead helps newcomers create a brand document that tells their story.
This activity will include examples and will draw on pre-Bootcamp prep work focused on identifying attendees' personal strengths.
Attendees will later present this to a group of 10-12 peers.
Presenting and Public Speaking
Presenting and Public Speaking
This module will focus on empowering attendees to be more comfortable sharing ideas with a facilitator and a group.
Attendees will present the brand document they created in previous modules.
Attendees will also focus on differentiating the stories told in LinkedIn, resumes, and work presentations
Becoming a Business-Minded Professional
Becoming a Business-Minded Professional
Using an empathy map, attendees will learn how to align themselves and empathize with what companies are looking for, and determine where they fit into this goal.
Rather than focusing on a product's journey, attendees will consider themselves as the product as they craft the product journey.
Attendees will discover the end goal as well as needs, wants, and desire, and figure out how to get there.
Becoming a Cultural Ambassador
Becoming a Cultural Ambassador
This module is focused on helping attendees better understand tech company culture in Canada and how to acknowledge and celebrate diversity.
Learners will group together to map out key differences between cultures and talk about different methodologies companies use to establish team structure and project development.
Constructive Feedback Bingo
Constructive Feedback BIngo
This module is a chance for participants to understand how to give and receive constructive feedback.
First there will be some demonstrations of productive feedback discussions to set a good example.
Participants will demonstrate giving another person feedback effectively while the other practices how to respond to feedback. They receive a star for that square on their Bingo card, attempting to interact with enough people to create a line for a Bingo.