---
Frequently Asked Questions
Why do the Tech Bootcamps focus on soft skills?
There are many programs that help newcomers to Canada improve their hard skills through up-skilling and re-skilling initiatives.
However, given that 85% of job successes are attributed to soft skills (Harvard), and 89% of new hires that do not work out are attributed to poor soft skills, there is a clear need for a focus on soft skills.
As a result, the Tech Bootcamps initiatives is one of the first of its kinds to focus on a specific delta of challenges: soft skills for newcomers in tech.
Are the Tech Bootcamps focused on newcomers or employers?
The Tech Bootcamps themselves are focused on helping newcomers adapt and upgrade their soft skills. Critically, we are not aiming to help newcomers learn soft skills. Newcomers already have soft skills from their previous workplaces – they simply need to learn how to adapt and upgrade those for the Canadian context.
Do the Tech Bootcamps include job matching or placement supports?
While the Tech Bootcamps do not provide job placements, IEC-BC is very excited to announce the launch of Tech Connect Plus. Through this initiative, we will be inviting Tech Bootcamp attendees to register and interview for real roles with leading tech companies.
The Tech Bootcamps initiative is focused on helping the sector move from a subjective and bias-ridden understanding of soft skills to one that is learnable and achievable.
What opportunities are available for employers?
IEC-BC is currently working with Hire Immigrants Ottawa to develop a series of workshops to help tech employers more effectively activate newcomer talent. These workshops will cover everything from how to create effective and accessible job descriptions to how to onboard newcomer employees for success.
Additionally, IEC-BC is working with TRIEC to develop an online series of micro-credential courses to help employers understand how to integrate soft skills into the workplace.
Latest Updates
Insights into the Tech Bootcamps
Tech Bootcamps Timeline
Phase 1: Development – Complete
March – November 2022
Phase 2: Deployment – Complete
December 2022 – April 2023
Phase 3: Dissemination
May 2023 – February 2024
Review and analysis
Employer workshops launch
Employer online soft skills courses launch
Final analysis and impact review
Our Design Process
Learn More
---
For Newcomers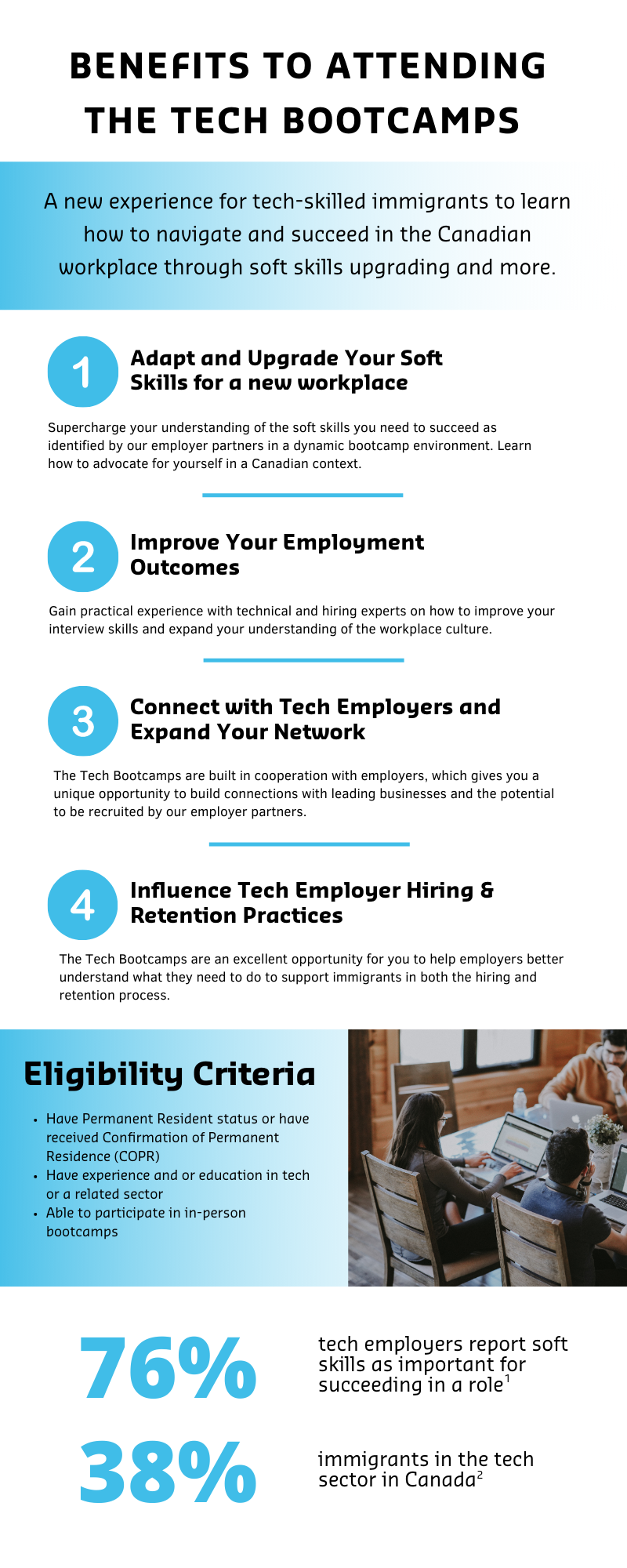 Register for the Tech Bootcamps
Please note that there are no Tech Bootcamps currently scheduled. Check back soon for updates!
---
For Employers